Founder Jim Judge and his staff, focuses on providing expert clinical care and measurable outcomes. ReLive's mission is to provide each patient with the individual care needed to get them back to living a pain-free life. ReLive uses high quality evidence-based therapy to ensure patient satisfaction and recovery. Come feel the difference with us!

Jim Judge
PT, MOMT Founder & President
Jim Judge is the Founder and President of ReLive Physical Therapy, a Chicago-based Rehabilitation Center, focused on the delivery of expert clinical care for work-related musculoskeletal injuries and sports medicine. Jim is a seasoned Physical Therapist and Rehabilitative Services Entrepreneur.  He  received his Bachelor's in Physical Therapy from University of Illinois. He then went on to complete his Master's focused on Manual Therapy from The Ola Grimsby Institute. Jim previously was President and Founder of Flexion Rehabilitation, with 18 clinics in 3 states. Jim has brought his vision from his previous company to lead Relive to being the therapy of choice for the community and healthcare providers we serve.

Amanda graduated in May of 2013 with her Bachelors in Exercise Science/Physical Therapy from Saint Louis University. She later graduated from St Louis University with her doctorate degree in Physical Therapy in May of 2015. Amanda is an expert in differential diagnosis of muskuloskeletal injuries and dosing theraputic exercise progression to improve overall progression. She is also a member of the APTA and the IPTA.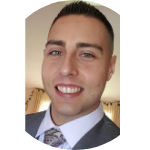 Zeke is a physical therapist assistant with our clinic. He is a first generation immigrant, fluent in Spanish and active in sports. Zeke played baseball in college and brings a lot of experience to help contribute to our orthopedic population. He goes out of his way to contribute to our team willing to work in a few locations to learn more about our system of care. In a very short time, Zeke has shown great professionalism, team work ethic and excellent patient care. In his free time, Zeke is an umpire in youth baseball. We are happy to have him come aboard. 

Cassie Pullia
PT Tech / SPTA
Cassie is a clinic assistant to our Physical Therapists. Cassie graduated St Xavier University in 2015 with her Bachelor's Degree in Business Administration. She is a former athlete, and played NAIA collegiate soccer for 4 years at St. Xavier. Cassie is also an ACE Certified Personal Trainer with experience designing exercise programs based off client goals. She is currently studying in the PTA program at Fox College in Tinley Park IL.
We offer highly specialized treatments
" The rehab team here at ReLive Physical Therapy did a wonderful job with my shoulder injuries. They are very professional and knowledgeable. They take the time to go through the treatment activities with you, and I am very happy with their service. I feel a great improvement since I started with them. I would recommend them to everyone and anyone. If I ever have another injury, I will be back for their services."
"Wonderful atmosphere!! Amazing staff and knowledgeable about injuries. Equipment is up to date and clean. I would highly recommend going to this physical therapy facility, they're able to help with any kind of injury."
" Miracle Workers!!!! I had such pain in my upper back, just under my shoulder blade, that it actually caused what my physician said was Tennis Elbow. After less than an hour with Jim the Physical Therapist, All of the pain was gone. I had suffered the back pain for over a year and the elbow for 6 months. Today I have nothing, have also gain more mobility and strength and feel fantastic. Don't do what I did, which was live with the pain- Go to Relive Physical Therapy and get back in the game."
"My back pain and leg pain went away after only 2 weeks. I have been good ever since. Great atmosphere, wonderful team and very knowledgeable. I would recommend Relive Physical Therapy. Definitely!"